Company Profile
Network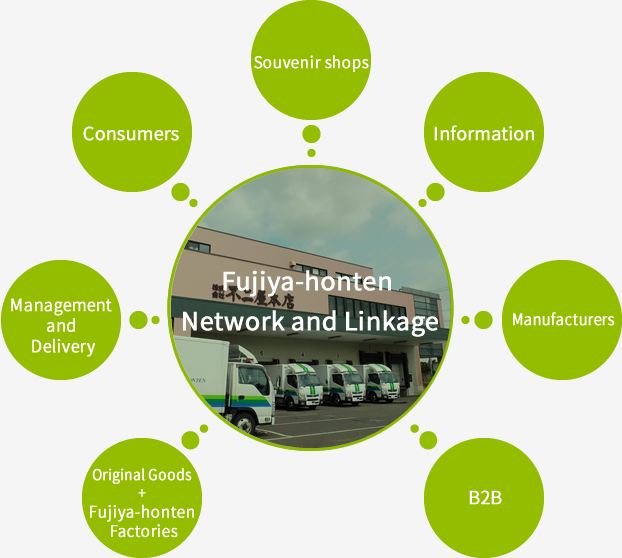 Fujiya-honten provides its goods in close cooperation with manufacturers, souvenir shops, consumers and partner companies.
Our network with manufacturers

We have strong bonds with our manufacturers.

Fujiya-honten souvenir shops safe and trusted goods to our customers. We verify the safety standards and supply routes of our manufacturers before bonding our partnerships, while we also develop beneficial backup measures for them for mutual prosperity. With our manufacturers, we share the idea of delivering goods our customers wish for and work close together daily to fulfill our mission.

Our network with souvenir shops

We visit our souvenir shops daily to collect their voices.

Our souvenir shops include department stores, retailors, and airport terminals in major cities like Sapporo, Hakodate and Asahikawa, where interactive communication comes in place with tourists and business visitors. Fujiya-honten is committed to wholesale routines such as streamlining delivery deadlines, checking expiration dates, and stabilizing supply routes. We are also endeavored to visit our souvenir shops to propose new goods and sales policies for increased sales volume.
Our network with consumers

We value the voices of our customers.

Our store "おみやげ工房なとりや"is our information source to understand customer motivation of both locals and tourists. The news we hear from this store which is connected to Sapporo Station is positively put into practical use for product development.

Our network between companies

We aim on building new corporate values.

From what we hear back from our customers and souvenir shops, we connect companies with an idea of new product development. We commit to increasing corporate values by bringing business resources together.
Creating original goods + Our factory network

Expertizing in gifts, we commit to adding value to goods.

Fujiya-honten owns factory facilities for the purpose of repackaging our customer goods, where we do one-stop-packaging from designing to measurement. Our specialized package designs are supported by many of our customers and serve as adding value to our goods.

Our network for management and delivery

We deliver fast and safe to keep the tastiness alive.

To keep the freshness and to keep sales within expiration dates are especially important with food products. Fujiya-honten aims at streamlining delivery and instant supply by efficiently functioning both our corporate-owned and commissioned delivery systems. We also put much care on temperature control for each of our goods so that we can deliver them in their best conditions.
Our information network

We relay our feedbacks and hidden demands to the creation of our next goods.

We discover accurate consumer trends by using our unique marketing methods supported by customer support, showcase stores, and sales analysis. We feed them back to our manufacturers. The efforts we make to provide better goods win customer trust and lead to sharing the fascinations of Hokkaido